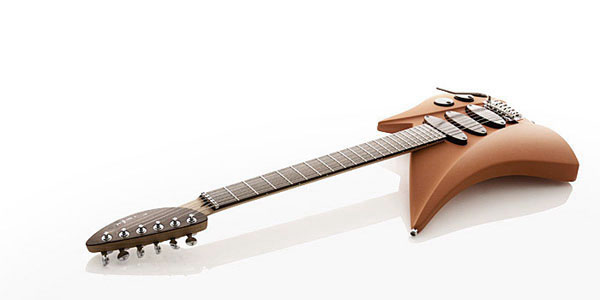 What would you say if your guitar could cuddle against your body? If it followed your moves and instead of swinging around? And what if your wife loved it madly?

The niwa is cut out of a 100 mm (4 inches) block of American alder. The body is shaped to follow your waist. Two tonewoods are visible: American alder for the body and neck, and rosewood for the fingerboard, headstock, pickups and the control knobs. All metal parts are chrome plated.

You may remember my former coco model. I only made 23 of those guitars. The coco body was made from a composite of a wooden core with carbon reinforcements. Unfortunately, after a while I noticed that I was allergic to expoxy resin and so I decided to abandon the series. Two years of R&D, and only 23 guitars. Lucky dogs, those who acquired a coco then: these rare instruments now fetch five digit figures.

After I stopped production I got inquiries from carbon experts who wanted to continue that production in my place but: teuffel guitars have been made by me personally and this is the way it will remain in the future. As for myself, I own two prototypes and one (unsaleable) coco in silver.